Rock Climbing
The Adirondacks are a classic rock climbing area. The "Dacks" are home to a wide variety of climbing types. With AMG you'll get the best rock climbing instruction the Adirondacks has to offer. Whether your just trying rock climbing as a beginner, or are ready to begin leading, AMG is the right place for you. With the only local American Mountain Guides Association (AMGA) certified rock instructor with 25 years of local experience, AMG has raised the bar for Adirondack rock climbing guides.
* Beginners
* Intermediates
* Lead Climbing Instruction
* Rescue Skills
* Team Building
Adventures
Along with all of the popular rock climbing areas in the Adirondacks, there are many back country adventures. If you want to get out of the main stream, we suggest one of the following trips:
Wall Face, Indian Pass
Gothics, North Face
Big Slide
Roger's Rock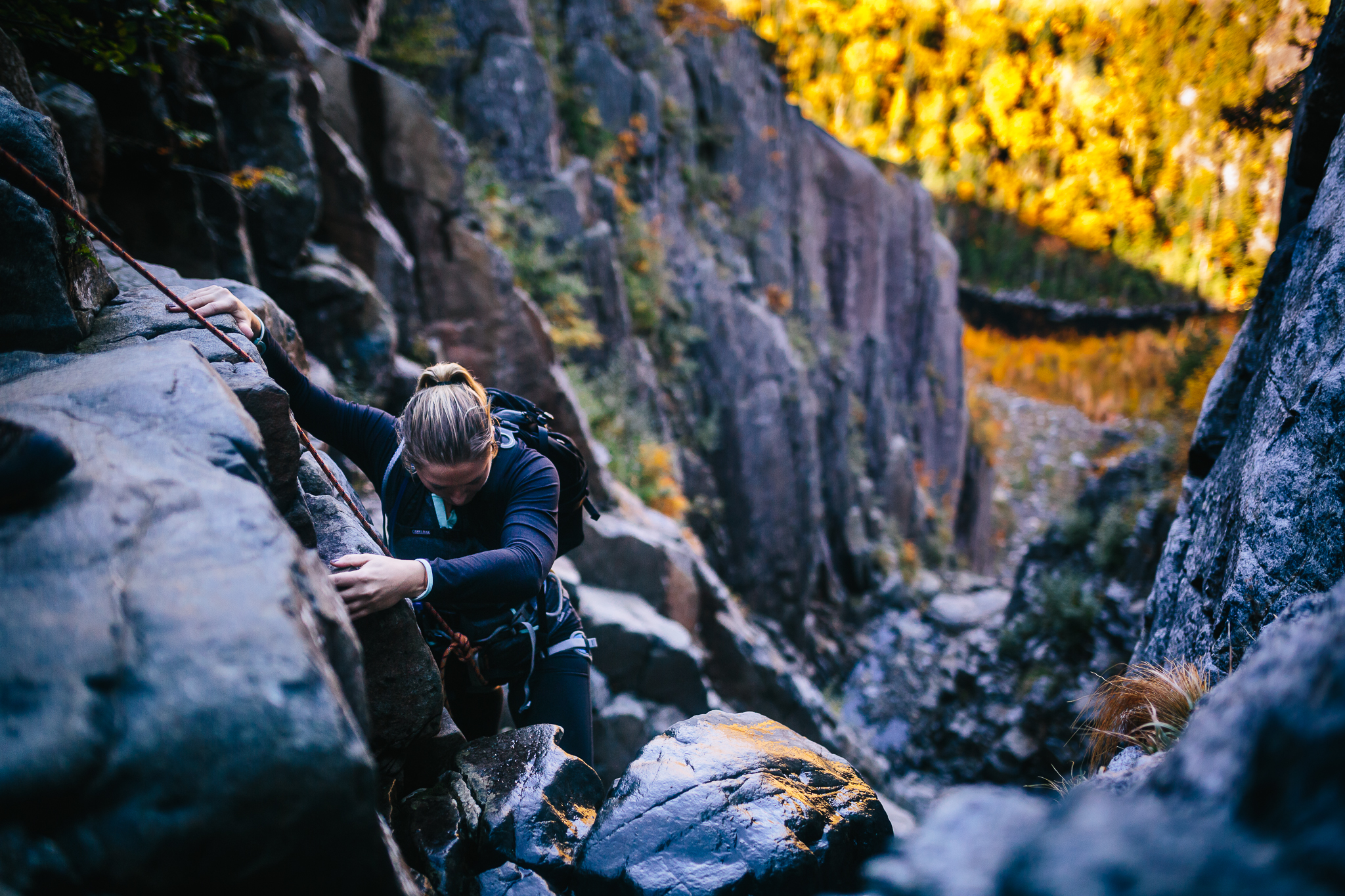 What Our Clients Are Saying
"I was referred to Ian's guide service by a trusted friend who's an experienced ice climber. As an inexperienced woman mountaineer in the making, it was important to climb with a guide that would teach, have patience, and the proper equipment. Not only did Ian exceed my expectations with the list above, he made the experience fun and exciting!! He started me out on a small climb to perfect my skills before moving me to taller climbs. I was impressed by his experience, detail to safety, and his ability to teach me this sport in such a short time. Ian motivated me to keep climbing all day and definitely challenged my abilities without overwhelming me. When we finished climbing, I felt accomplished and proud. I would recommend Ian to my family and friends, he's great at his job! My next trip is already planned with Ian!!"

-Kelley Uvanni, Lee Center, NY
"We've been climbing with Ian since winter of 2014. We started ice climbing a couple of years before and then Ian introduced us to rock that spring. We cannot whish for a better guide, climbing instructor and just a good friend. Every outing with Ian has been an adventure in a best sense of this word. He has an intimate knowledge of the area and we often wind up on the routes few people know about or dare to lead. Not only we are pushed to the limits and beyond, but we also have fun doing it! On or off the mountain, Ian is an absolute pleasure to spend time with. We are in Lake Placid almost every weekend during ice and rock seasons due in no small part to the wealth and quality of experiences we are getting with AMG. In short – we can't recommend Ian and his services high enough, this is what all mountain guiding outfits should be striving to be!"

-Oleg Neverovitch
"My first climbing experience was with Adirondack Mountain Guides and Ian Osteyee. Under Ian's skillful training I was lead climbing 5.8 multi pitch Rock routes by the end of my first summer. I have since had numerous experiences with other guides from other areas and I can confidently say that Ian represents the epitome of the professional mountain guide. I now climb with other partners, but still enjoy climbing ice and rock with Ian whenever I can."

-Jay Abbey
"Out of all the people I've climbed with over the years around the world, my experience climbing ice with Ian has been one of the most memorable in my life. Not only is he one of the strongest, fastest and most efficient climbers I've met, but also gracious and a blast to spend time with. I can't wait to climb with Ian again."

-Erik Weihenmayer, Golden, Colorado, first blind climber to summit Mt. Everest.
"My ice climbing abilities improved dramatically under the expert guidance of Ian and AMG. He is a gifted instructor with an innate capacity to quickly assess one's abilities and he expertly decides what is required to move the climber to the next level. It's always a genuine pleasure and a rewarding adventure climbing with AMG."

-Pedro Caban
"Climbing with Ian is an exciting pleasure. He is careful, almost conservative, mindful of clients' needs, and an effective teacher. Without actually using the rope, he draws you out and along to climb better than you have ever climbed before."

-Vic Benes, 83 years old, American Alpine Club
Our Gear Sponsors and Partners